Hear From The Team: Giving Thanks – 2023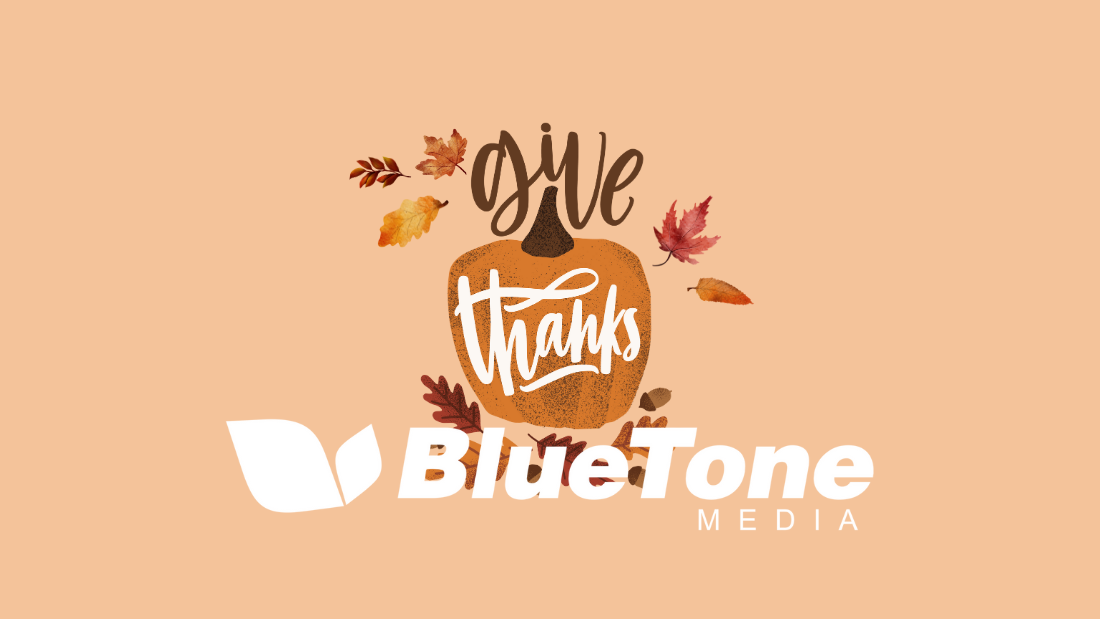 Last year, our team had so much fun going around the table and sharing what we were thankful for in our lives and work here at BlueTone.
This year, we've decided to continue the tradition.
We asked the BlueTone team to tell us what they are most thankful for this holiday season. Read their responses below…
What is the BlueTone team thankful for?
Drake: I am thankful for having a family that supports me in all my decisions, friends that catch me when I fall, and a job that encourages me to learn more and grow!
Adam: As Thanksgiving approaches, I find myself reflecting on the immense gratitude I hold for the blessings in my life, especially all my family far and near. My heart overflows with thanks for my two incredible sons, the pillars of strength and joy in my life.
I'm deeply appreciative of the unwavering support from friends who stand by me through thick and thin, sharing both laughter and solace. Your presence makes every moment richer.
At BlueTone Media, I'm thankful not just for my job but for the wonderful individuals I'm fortunate to call both colleagues and friends. Your camaraderie adds a special dimension to my work life.
Moreover, this year, I've recognized the significance of self-care and made it a priority. I'm grateful for the lessons it brings and the positive impact it has on every aspect of life.
Jeremy: I am thankful for my family's new home and all the support and patience the BlueTone Team gave us while we were moving this year!
Jimmy: I am thankful for a good family-work life balance – for the ability to balance professional responsibilities with family time. Having a great team that can take on tough problems helps me with enjoying the home side of life.
Lillie: This year, I'm particularly grateful for the safe birth of my son – and all the joys and challenges motherhood brings. I'm thankful for a loving husband who shows up every day to provide for our family and helps me lighten up and take a breather when I'm feeling a little bogged down by the stressors of being a working mom.
And, of course, I am super grateful for an accommodating team here at BlueTone who has been nothing but supportive as I've entered this new chapter.
Terrell: I'm thankful for my amazing wife Ionela, my best buddy Cooper, and the life we've built together!
Zach: I am thankful for all the caring and supportive people in my life. I am blessed with great family, friends, and colleagues.
Victoria: There's a lot to be thankful for, but one thing I'm especially grateful for is having a strong support system, both here at work and in my personal life.
Megan: I'm thankful for my own and my family's health and for being able to work with such a great team of people.

Nadia: I am thankful for where I am in this journey called life. Being here at BlueTone is proof that I have made some positive and sound decisions that have increased my happiness and health.
Chris: I am thankful that my family and I live near the beach!
Kerry: I'm thankful for so many things!
In my personal life, I'm thankful for a husband that loves and supports me daily. I don't know where I would be without him! I'm also thankful for my 4 fur babies that always make me smile. I adore my amazing group of family and friends that love and encourage me.
In my professional life, I'm so thankful to have a top notch support system at work. I love coming into work each day and being with an amazing team that helps me learn and grow. I'm also thankful for our leadership team, who is constantly working to support the BlueTone staff and help us grow as a whole.
Tower: I'm thankful for coworkers who are very caring and understanding when I'm not feeling well :)
Maria: I am thankful to be alive! I am thankful for an amazing support group around me and for co-workers who are family. I am thankful for my sons (and their wives), my parents, and siblings. I am truly blessed.
Hayden: This year, I am especially thankful for my health. It's my goal to take it even more seriously in the coming year.
Brad: I'm thankful for my family, having my parents live near us, and for the amazing team that makes it a joy to come to work everyday!
Alissa: I'm always incredibly thankful for my family, not just during this season! I'm also incredibly thankful for the team of amazing marketers I have supporting our department and our clients!
Learn more about our awesome team.
BlueTone Media | A work family you can count on!
In the past year, the BlueTone Media team has faced a wide range of challenges – both personally and professionally. We've been with each other through thick and thin.
Our compassion and care doesn't stop with our internal team – it extends to our clients as well.
The BlueTone Media team takes pride in our ability to provide custom, hands-on service to our clients and help them achieve their unique business goals.
Can you vouch for our spectacular web design or marketing team? Leave us a review or send your fellow business-owner friends our way.
READ MORE: