Hear From The Team: Giving Thanks – 2022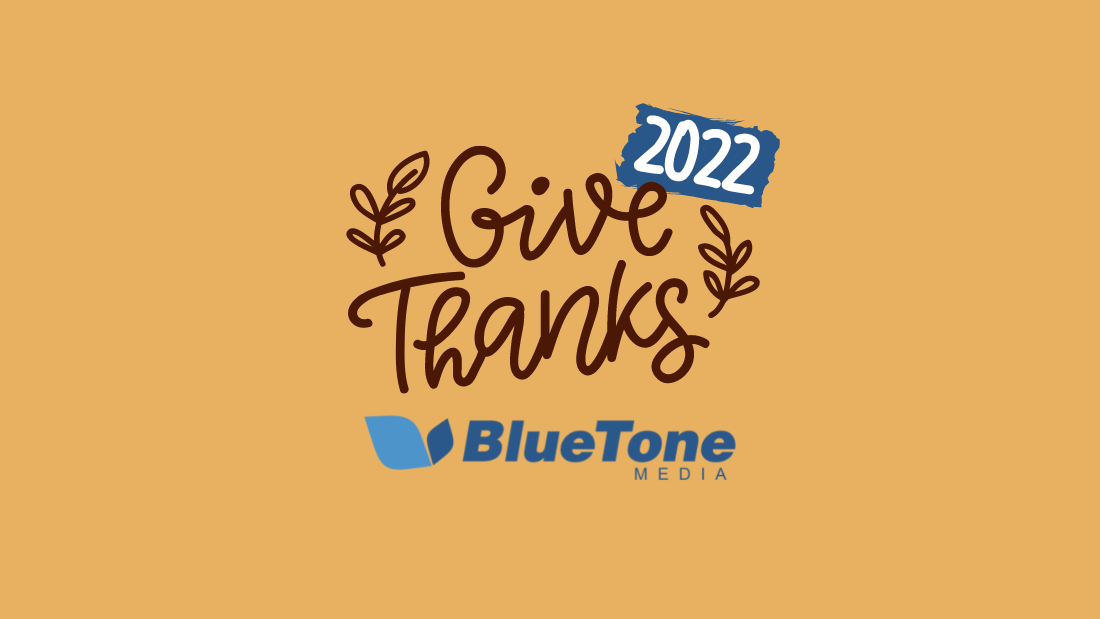 As we approach the holiday season and the end of 2022, the members of the BlueTone team have found ourselves in an especially thankful mood. The BlueTone Family has seen a significant amount of growth over the last year – both internally and for our amazing clients. We just can't wait to see what 2023 has in store!
We asked the BlueTone team to share with us what they are most thankful for this holiday season. Read their responses below…
Maria: I have so much to be thankful for. I am grateful for fellow employees I enjoy spending 8 hours a day with!! BlueTone has perfected the "little things" that make each day enjoyable, and every employee feels valued. It may not be rocket science, but making a product that will help a business grow makes my day!!
Adam: First of all, I am thankful for my family, wife, two sons, father, and sisters, etc. – without them, there is no me. Secondly, I'm thankful for our team here at BlueTone. Jimmy and Brad are business leaders that make it fun to work together. Our team is amazing and can get anything done once we put our minds to it. The possibilities are endless for this amazing team here at BlueTone!
Jeremy: I'm thankful for the team at BlueTone who is always willing to lend a helping hand when needed. I'm thankful for the many fascinating clients we have, who allow me to learn how to solve new problems every day. Most of all, though, I am thankful for my wonderful wife, Ashley, who works tirelessly at the difficult job of home-schooling our three incredible children!
Megan:
Personally…
Mine and my family's health.
Getting to witness my son grow into a funny, sweet, and caring "young adult" now that he's in high school.
My awesome animals (1 dog, 2 cats, and a bird).
That the pandemic seems to be over.
For my ability to watch The Office, Parks and Recreation, and Friends basically on repeat and avoid a lot of new shows.
Professionally…
Being able to work somewhere that isn't rigid and can be fun and laid back while also getting important tasks done.
For Brad and Jimmy – They have both grown so much over the last couple of years and they have helped me grow professionally as well. Also, I'm grateful that they've allowed me to help them grow BTM over the years.
For the team – Everyone has put in so much effort this year, and it has really shown. The team feels more cohesive than it has felt in a while!
Tower: I'm very thankful to be part of such a supportive team. It's a great feeling to be encouraged to try new things, which is a big showing of trust. Here's to a great new year!
Hayden: When it comes to Bluetone, I can honestly say that I feel extremely fortunate to have started my role as a Marketing Manager all those years ago. That's because over that time, I've been able to witness the company grow exponentially – and I've been trusted to have my hands in all aspects of the business along the way. That's the kind of experience I'll take with me forever. On a personal level, I've never been happier – and I have my beautiful girlfriend Jasmine to thank for that!
Brad: I'm thankful that I was a lonely college freshman many, many years ago, and for a dorm-mate befriending me. Eventually that friend ended up taking a chance on me and bringing me onto the BlueTone team, and I've loved every second of it! (P.S. Thanks, Jimmy!)
I'm also extremely thankful for our amazing customers, who are so wonderful to work with on web projects. I thank them for trusting us to help them with their businesses. We love solving problems and making them more efficient, so they can focus on what they do best.
Finally, I'm thankful for our caring and fun team that makes coming to work every day so enjoyable. We are so fortunate to be able to work hard and play hard together, and I love that about us!
Agustin: I'm thankful for so many things, but to name just a few…
The blessing of a healthy life.
The joy of an avid mind and a kind hearth.
The protection and love of a strong family.
And BlueTone Media's quintessence.
Terrell: I'm thankful for the great team I get to work and play games with. I'm thankful for the opportunity to help our clients develop their online presence. And, of course, I'm very thankful that I can bring my best buddy Cooper (my dog) to work with me.
Lillie: This year, I am thankful for many things. For loving husband and baby-to-be – due to arrive in early 2023. For my kind, excellent workmates at BlueTone and our caring company culture. For all the personal and professional growth I've experienced here at BlueTone over the last year. And, definitely for all the exciting, ever-changing content work I get to do for our clients!
Jimmy: I am thankful for my health and family and being able to be around a team that's talented, cares about what they do, and continually pushes for personal growth.
Daniel: This year I'm thankful for my health, family, friends, and a job I enjoy. This past year I've been able to spend time with my niece and distant family I'm not able to see very much. Looking forward to another fun and productive year in 2023!
Alan: I'm thankful for having so many things to be thankful for. I'm thankful for having an amazing position that comes with the flexibility and trust to work remotely. Whether I'm posted up working in the fall on a mountain in Vermont, working at a lakehouse in Canada, or working in Florida and hiding from the winter cold, I still enjoy a feeling of teamwork and connection!
Kris: I am thankful to be alive and to work with a very talented group of marketers and an inspiring team leader!
Alissa: I am so thankful to have joined the BlueTone Media team this year. It feels like I found the most perfect work family, and I love getting to know all of our clients and working with them to achieve success.
I am thankful for the awesome Marketing Department at BTM. Lillie keeps me in-line with Oxford commas and single spaces after a period. Hayden gracefully handles all of my off-the-wall requests for reports and edits to reports. And Kris has the strongest GIF game I've ever seen – mornings are better because of those additions to our team chat!
I am also so thankful for my family. We've had some big changes to our schedules the past few months with me taking on a position with more "traditional" working hours, and my husband and two boys have been such a huge help and support. And have been more than a little understanding when we are eating take out for the third time in a week because I got home later than I thought I would. (With that said, I am NOT thankful for Wilmington traffic!)
Grant: I'm thankful for my team that always helps me help our clients! I'm also thankful for my wife Anna, our two pups – Olive and Penny – and my friends and family back home. I wouldn't be here today without all of them, and I'm really grateful for that!
Zach: I am thankful to be part of an energetic team that is passionate about helping local businesses. I'm also thankful that my new job can keep me here by the beach! Never gonna move inland!
BLUETONE MEDIA – SMALL ENOUGH TO CARE, BIG ENOUGH TO HELP YOU GROW!
The BlueTone Media team takes pride in our ability to provide custom, hands-on service to our clients and help them achieve their unique business goals.
Can you vouch for our attentive and effective web design and/or marketing team? Leave us a review or send your fellow business-owner friends our way.
READ MORE: