SEO vs. PPC: Which is Better For Your Small Business?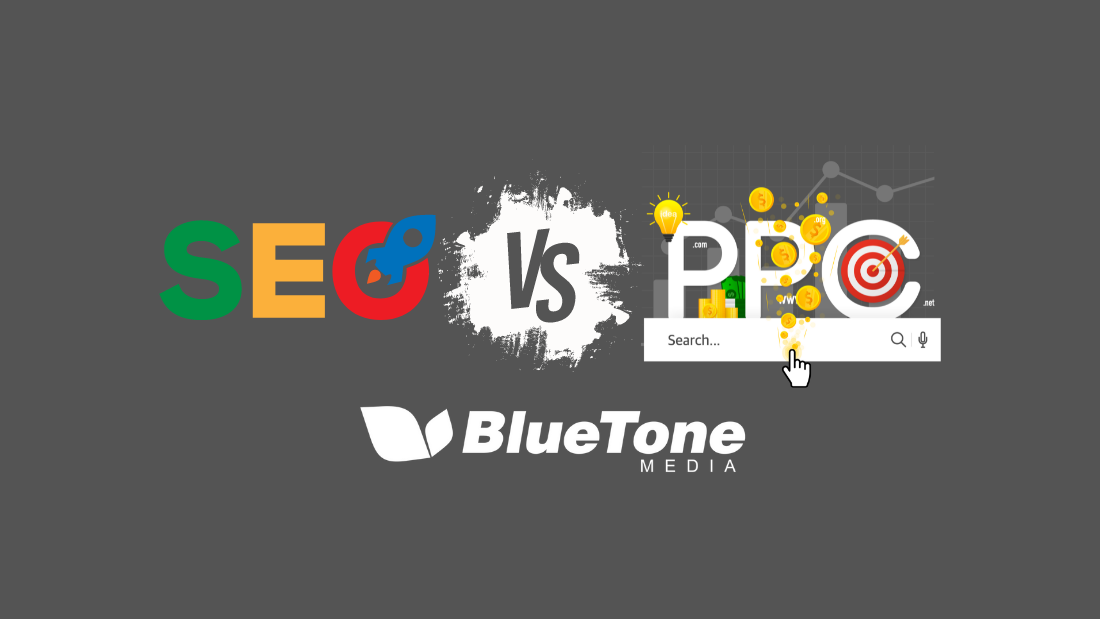 The SEO vs. PPC debate has been raging for years. Two of the most prominent digital marketing approaches, search engine optimization and pay-per-click advertising each have unique benefits and drawbacks for small businesses.
But which is the better use of your money?
The answer is complex and depends on a range of factors. And often, a combination of SEO and PPC marketing will give you the best results.
In this blog, we will…
Explain SEO and PPC basics

Explore the pros and cons of each marketing tactic

And discuss how to determine which method will work best for your small business





What is SEO?
Search engine optimization is the process of improving your website's rank in search results.
When people talk about SEO, they are primarily referring to optimizing website and online content for Google's search engine. Other search engines like Bing and Yahoo! have a significantly smaller market share, and therefore don't warrant much of your time or money.
If someone has a question, they often turn to Google for the answer. And when they get the search results, they probably won't look past the first page.
Therefore, you need an SEO strategy that is going to ensure your website makes it to that first page of search results. To boost your ranking, you can do things like…
Updating your website regularly with useful content

Incorporating relevant keywords and key phrases across your website

Adding high quality visuals to your website

Cleaning up your website's sitemap

Picking a speedier website hosting service

And asking high authority online sources for backlinks (i.e. links back to your website)

How SEO can help your small business?
Search engine optimization is a valuable tool for small businesses.
1. It'll boost your local visibility.
What do YOU do when you want to find a pizza place in your area?
If you're like most consumers, you grab your phone and search "pizza near me" or "pizza wilmington, nc."
When managed effectively, search engine optimization allows you to increase the chances that potential customers find your business through local searches like these. Then, once they find you, it's up to your website to convert them into paying customers.
2. Your website traffic will be more consistent.
SEO is an "organic" marketing method. You aren't paying Google for your spot in search results. You earn your high ranking by keeping your website up-to-date with optimized content and doing all the things we listed above.
Unlike PPC campaigns, the results you achieve through SEO don't disappear when you stop paying. Once you've established a high ranking, your traffic may even continue to increase passively – without any additional work on your end.
But don't let your web content get too outdated. To maintain stable search traffic, your website content needs to remain relevant and useful.
3. SEO is more budget-friendly than PPC.
With SEO, you will save on marketing in the long-run.
It's a long-term investment.
You spend a little time and money creating SEO-friendly content and optimizing your website each month. Then, your organic reach will grow exponentially over time. That way, your business can get impressive results with a smaller monthly budget.
PPC campaigns work a little differently. You pay every time someone clicks to visit your website from the search engine results page (SERP). The costs can add up quickly.
4. SEO improves your website's user experience.
The entire goal of Google's search algorithm is to sort through every web page on the internet and provide users with the content that is most relevant and useful for their unique needs.
So if you focus on updating your website with content that provides value for your target audience, Google will pick up on it and rank you higher for certain search terms. You will knock out two birds with one stone! Your website visitors will be happy AND your search ranking will improve.
5. It makes you look more trustworthy.
PPC search ads are accompanied by a "Sponsored" label in search results. This can be a big turn-off for potential customers. On the other hand, a web page ranked organically through SEO is label-free.
Most people realize the websites that make it to the top of the search results WITHOUT paying are the ones that are most credible and useful. Just having a high rank in search results can solidify a consumer's trust in your products or services.

SEO Limitations
Yet, SEO does not come without its limitations.

1. It takes time to rank on page #1.
Have you ever heard the tale of The Tortoise and the Hare?
Often, SEO marketing is like the slow and steady tortoise that wins the race. It rarely drives immediate results. More often than not, it will take several months for you to reap the benefits – possibly even longer!
And the journey to the first page of Google is a tough one. Depending on your competition, you may have to invest in SEO for years before reaching page #1.
Why isn't my website on page #1 of Google?
2. Search engine algorithms are always changing.
Google comes out with algorithm updates like clockwork. When these updates happen, you could potentially lose all of your hard work if Google makes a change that isn't in your favor. This is one of the main reasons many business owners hire an SEO specialist or agency whose job it is to keep up with all the latest changes Google makes.
3. SEO requires continuous work.
With SEO, regularity is key. The moment you stop posting new valuable content and updating old pages on your website, you pose the risk of falling back in the ranks.
And small business managers have nothing but time to spare, right?!?
It can be challenging to stay on top of the content creation and updates necessary to achieve your SEO goals – especially when you've got to worry about all other facets of your business.
This is yet another reason it may be worth your while to hire an experienced SEO professional.

What is PPC?
PPC stands for Pay-Per-Click marketing. It describes any advertising that requires the marketer to pay every time a person clicks on their ad. Search ads – often referred to as Search Engine Marketing, or SEM – are the most common PPC ads.
For the purposes of this article, we are primarily interested in Google search ads.
Search ads appear at the top of search engines. They look like regular search results in almost every way. They just have a little "Sponsored" tag.
To secure ad spots, advertisers place bids on the per-click cost. The precise amount you'll pay for a single click on your ad depends on a few factors, including your specific industry and your target keyword or phrase. If you have a lot of competition, your per-click cost will likely be higher – which ultimately drives up your overall ad spend.

Benefits of PPC for small businesses
Pay-per-click marketing has a lot to offer small business marketers.

1. It's a lot quicker.
Once you have the advertising space, all you need to do is create a compelling ad and launch it. If your ad is enticing enough, you may even see some clicks the very same day. Meanwhile, SEO marketing generally has a much more gradual pay-off.
2. PPC campaigns track valuable data.
PPC campaigns produce some pretty powerful data. You can see which keywords, ads, and landing pages worked best. Then, you can use that data to improve your strategies for both pay-per-click AND search engine optimization moving forward.
3. Your online visibility is more certain.
If you are willing to pay for the ad space, you can count on your website appearing at the top of the first page. Whereas, you would have had to wait a lot longer to see your content make it to page #1 with SEO marketing.
4. You'll attract users who are ready to buy.
Consumers who click on PPC ads tend to be the ones closest to making a purchase. Google Ads makes it easy for you to pick your target audience based on age, geographic location, interests, and more. Then, if you choose the right high-intent keyword to target, you'll dish out your ad to the users who are most likely to convert.
5. PPC offers great experimentation potential.
Google Ads lets you send out two ads simultaneously and analyze which ad converts more customers (also known as A/B testing). After you try out both ads for a while, you can make some tweaks. Or you can simply start from scratch. This experimental marketing approach is a great way to ensure you don't waste your money on a campaign that just isn't working.

PPC Challenges
However, there are a few drawbacks to using PPC.

1. People are often "blind" to ads.
That "Sponsored" label may be just enough to deter potential customers away from your company. Most users recognize by now that the first couple of search results are often advertisements and purposefully scroll past them.
2. Your customer acquisition cost (CAC) is higher.
PPC campaigns can feel like a gamble. Paying every time someone clicks on your link may not seem like much. But if you create an effective ad, the costs will compound quickly. And if those clicks don't lead to customers or sales, your losses can be discouraging.
3. In many industries, PPC is only effective if you have a high budget.
In competitive fields like law, medicine, or insurance, businesses often have to pay small fortunes to secure ad placement. So, pay-per-click marketing is often not the best approach for businesses starting off with a low marketing budget.

SEO, PPC, or both?
Both tactics give you an edge over your competitors.
But which is truly the BEST option for small businesses?
It depends.
SEO is a good choice if you…
Have a small monthly budget

Can bear to wait for long-term results

Aren't much of a risk-taker when it comes to digital marketing

Want to improve your business' credibility

You want to engage potential customers at all different buying stages
Meanwhile, PPC is ideally suited for small business owners who…
Have a substantial marketing budget

Need to see fast results

Are selling an innovative product or service

Want to promote something specific (like a sale or a brand new product)

Have a well-designed landing page to test out
But remember, your best bet is to use a combination of SEO and PPC marketing. Pay-per-click can get your small business a lot of traffic in the short-term. But if your marketing budget dries up, you'll want to have some valuable SEO-friendly content to help you continue rising through the ranks.
BlueTone Media | SEO & PPC Managers
SEO and PPC require a lot of specialized skill to execute effectively. No matter whether you choose SEO, PPC, or a mix of both, you most likely don't have the time necessary to successfully manage the digital marketing campaigns yourself.
But we do!
Our team includes 10+ year experts in both SEO AND PPC.
We even have seasoned content specialists whose sole job is to craft effective, SEO-friendly content for our clients' websites.
Let our experienced team give you a hand with your digital marketing efforts. Contact us today for a FREE initial consultation.
READ MORE: